Price: $60 USD
Designer: Jon Usiak
Lead Editor: Brian Moats
You know ghosts are real; you have seen them. To you, the paranormal is normal, but convincing others that these sightings aren't a hoax, that's the difficult part. Assemble your team and then race against the clock to gather the evidence and prove that ghosts exist!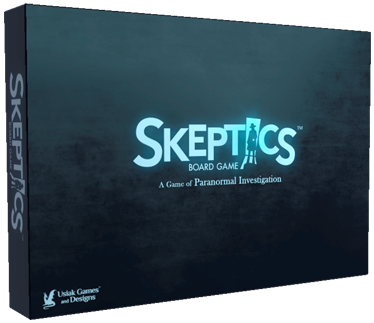 SKEPTICS is a cooperative, dice rolling game, where players explore potentially haunted locations to prove the existence of ghosts. 1-4 players take on the role of Investigators gathering evidence of the paranormal.
Investigators race against the clock exploring rooms and rolling dice to match icon sets to Search, Reveal, and Solve Clues. Each Clue will lead Investigators one step closer to revealing the Ghost. Environment Cards are drawn every hour, which may have hazards and conditions that will impede the Investigators' progress. Investigators win if the existence of the Ghost can be proven in time, but Investigators fail if time runs out.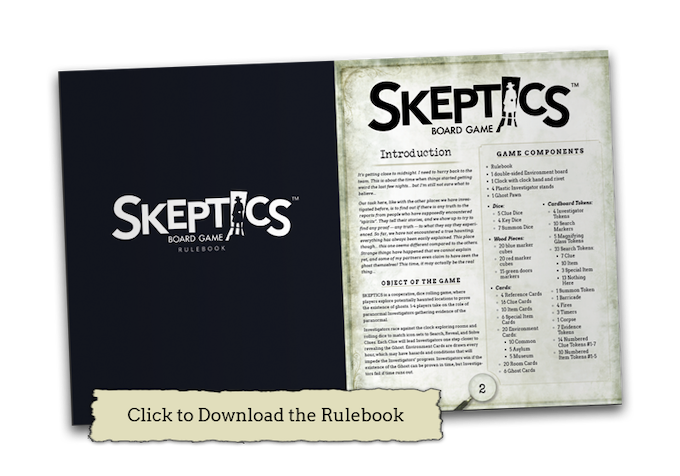 Game Info
Players: 1-4 Cooperative
Ages: 14+
Play Time: 60-120 minutes
Contents
1 Double-sided Environment Board
1 Clock
4 Investigators Standees
1 Ghost Pawn
6 Ghost Boards
80+ Tokens
16 Dice
65 Wood Pieces
76 Cards
Rulebook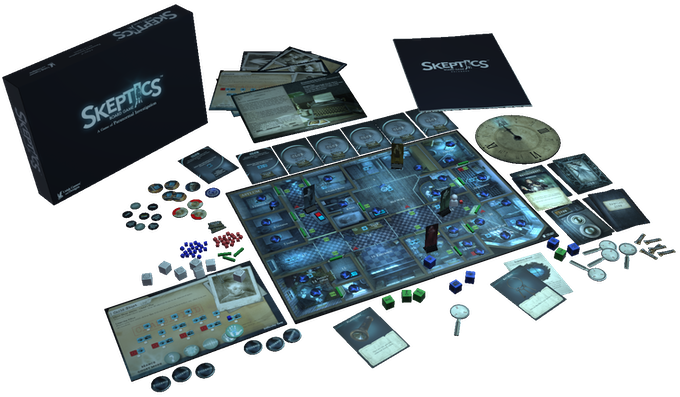 First Edition Copies come with Additional Contents that will be sold separately in future print runs.
2 Ghost Boards (TWiiNS and Entity)
1 Die
4 Cards
4 Tokens
4 Investigator Ability Cards
Storybook Mode
2 Mini-Rulebooks
SKEPTICS Promo Card Pack (exclusive to first edition); may be available in small quantities in the future.
Game Add-Ons